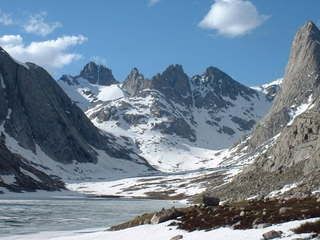 I am not only about traveling to Asia. My main hobbies are fly-fishing, camping, hiking, hunting, and mountain climbing. Basically, anything outdoors.
3 years ago I decided to climb Gannet Peak, the tallest peak in Wyoming. We had studied the route, and my hiking partner had even been in to Fremont Peak (a close by neighbor) so we had a good idea of what the trip entailed. I called the Ranger station and they told us there might still be some snow up there. Since it was the 4th of July holiday we thought that it should be OK.
The first 14 miles were almost decent. We hit some deep patches of snow but were able to post-hole through. After Island Lake though, we were hosed. We post-holed for 3 more miles to Titcomb Basin, taking almost 6 hours to go that short distance.
Once we got to the Basin the winds kicked up to over 60 mph. It was literally blowing rocks. The next morning we got up early and headed for the peak, planning to bivy camp on the side of the mountain. Once we got to the top of Bonney Pass (12,000+ ft) we were confronted with more wind and a pending storm. We bailed, glissading (sliding on your butt, using an Ice Axe as a rudder/brake) back down Bonney, a 1200' run, to me this was the high point of the trip.
We did return the next year, and even though it was the exact same weekend we met no snow at all until the glaciers. That trip we were succesful in climbing this very tough peak.