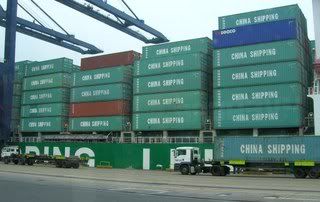 A visit to the Port of Hong Kong is a surreal experience. An average of 11 container ships leave there
each day
, carrying roughly 7000-12000 containers each. Containers are stacked 6 tall and 20 deep as far as the eye can see.
When I first started buying from Asia I felt that the 30 containers I move per year were Big Time. Come to find out there are companies like Phillips/Magnavox that will move 80 containers of a
single item
PER DAY.
The sheer mass of stuff departing from this port alone (the 3rd busiest in the world) is mind blowing.
The process to load one of these ships is amazing. One guy sits at a computer in a building and selects which containers will go on his ship. The cranes are all automatic and will go out to the "yard" and pick the applicable container and ferry it to the ship. The average transfer time is 1 container per minute and they assign 6-8 cranes to a ship in order to get it loaded and out.
Maybe the most impressive thing to me was the casual execution of a seemingly overwhelming task. The workers are very competent, well trained, and very efficient. Maybe our ports could take a page out of their books.